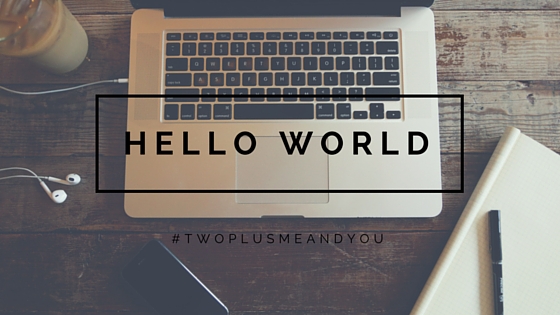 Hello world and so we meet again! Welcome to Two + Me & You!
Where do I begin? Well… I used to have a blog. It failed. I've dabbled with the thought of starting a new blog for a few years now and it wasn't until recently when I discovered that there were other bloggers (that I used to follow) who had taken a hiatus and also decided to return to the blog world. With that inspiration in hand, I decided to finally take the plunge and just do it. I'm starting over with a new name, new look, same old me.
Will this blog succeed? Who knows but I'm doing this for me, not for followers or likes. For now I'm going to keep things simple. Will I blog every day? Unlikely. There's no team of content contributors it's just me and the keyboard and my words. Let's be real it's taken me days to write this post as each night I sat down to type either the baby cried or my toddler called out "momma come lay down and read me a book." In the end, time with my kiddos will always win.  Will I share photos of my kiddos? Probably not, I prefer to keep their identities private.
So what will I do? I will promise to be real. To give my honest point of view on things – the good, bad and ugly. I don't want to blog just for the sake of needing to get a post out for the week, I want to write when I feel inspired. It may be as simple as a good pinterest find or my personal "mom-opinion" on something. Whatever it may be, I hope you'll stick around as I navigate life as a working suburban mom trying to do it all.
Cheers!