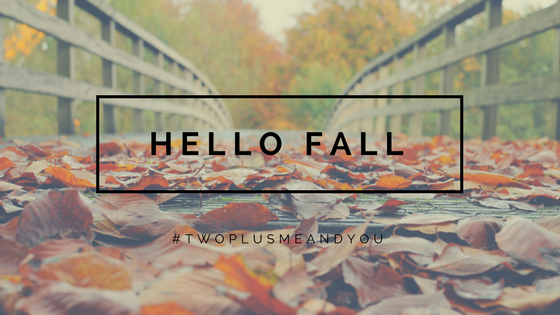 Fall is probably my favorite season (though Christmas is my most favorite holiday.) Living in the mitten we get to experience the most beautiful of falls — watching the leaves change color to golden yellow, orange and red.  I just love it!
I know I'm a few days late on my "welcome" Fall post but, the season hasn't been all that nice to us to start. On the first day of Fall Grace got a mosquito bite on her face that swelled up so much her eye closed and she looked like Rocky Balboa for the entire weekend. Then on Sunday evening Rae started showing symptoms of the dreaded Hand Foot & Mouth (it's been going around school like wildfire) and yesterday she woke up covered head to toe in spots — I feel so bad for her because you can tell she's in pain and even Motrin isn't helping much.
So, aside from this poor to start the season, what am I looking forward to most this Fall?
Salted Caramel Hot Chocolate. Forget the whole PSL craze, that's not my cup of tea. And salted caramel mocha? Those are good, but let's not forget that the hot chocolate version is the OG. Salted caramel hot chocolate, that's my jam.
Cider Mills, Pumpkins and Hayrides. I cannot wait to take the girls on a hayride to go pumpkin picking, then bring them home to carve scary pumpkin faces! Even more exciting is taking them to the cider mills (we have so many around here) — the biggest question you have to answer, sugar or plain donut??!!
Fall-scented Candles. One of my favorite things about the season is that the house feels warm and cozy all the time.  Right now my current fave fall scent is Snuggly Sweater (from Target.) It's the perfect scent for September, fall-like without feeling like you've jumped from summer right to Thanksgiving.
Cozy sweaters and blankets. My husband will tell you that I have an addiction to buying throw blankets. I have a basket filled to the brim in the living room. Who doesn't like to snuggle up with a soft snuggly blanket to watch a movie?!
Tailgate Parties. Let's be honest, I'd be the one that wears the T-shirt "I'm just here for the food." I don't care for football (there I said it,) but man do I love tailgate party food!
My Birthday! It's practically it's own holiday 😉
Making a "Henry" Ghost. Back when Michael and I were engaged we made a ghost, for our fall bridal party get together, and we named him Henry. We've never made one since but promised this year we would make one with the girls — I think they're going to love it!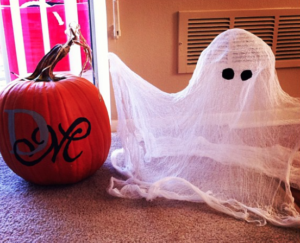 The Hallmark Channel Holiday Movies. This is my one guilty pleasure. I can watch the cheesy love stories over and over again. Can't get enough of them. True story.
Halloween Costumes. I really enjoy planning Grace and Rae's Halloween costumes. As in, I have a Pinterest board and everything, kind of enjoy. While I don't sew and therefore can't hand stitch their costumes the way my mom used to make mine, I still get satisfaction of making them "homemade" costumes each year. Plus I like to dress up with them… the year I was prego with Rae I dressed up as Super Grover, Michael was Cookie Monster and Grace was Elmo. This year Grace wants to be a spider and her Daddy will be the web. Rae will be a super hero and I will be her sidekick. Looking forward to a fun night of trick-or-treating with those two.
Finding New Traditions and Making Memories. Now that we have established our own little family it's really important to me that we carry-on traditions from our childhood (Michael's and mine) while finding new traditions that the girls can maybe carry-on one day. Whether it's going apple picking, or finding a Cider Mill that we can "call our own," this season is about spending time with family and creating those memories for our girls that they'll tell their children about someday.
SaveSave
SaveSave
SaveSave
SaveSave
SaveSave
SaveSave