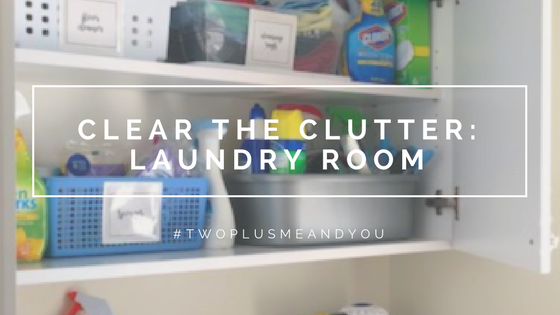 TGIF! Was it just me or did this short week seem long?!!
I have to admit, the house is looking fantastic!! We're so close to having everything in it's place and organized, but I have to admit, I'm starting to lose my motivation. We've been going so hard, but when paused to look around and admire the work, well, I got tired. It's like when you come home from work at the end of the day, you're going strong: making dinner, doing laundry, sweeping the floor, doing dishes, bathing the kids, etc. but you know you can't stop until it's all done because the moment you take 10 minutes to sit down – game over. You're done for the night. That's how I think I'm starting to feel. Luckily I'm committed to the Clear the Clutter Challenge which is just what I need to motivate me to finish the last mile of the race. We can do this!
Earlier this week I shared my newly de-cluttered linen closet and as promised I wanted to share a few pics of my newly cleaned-up laundry room.
We have a fairly small laundry room – there's not a lot of room to maneuver. Here's the room before…