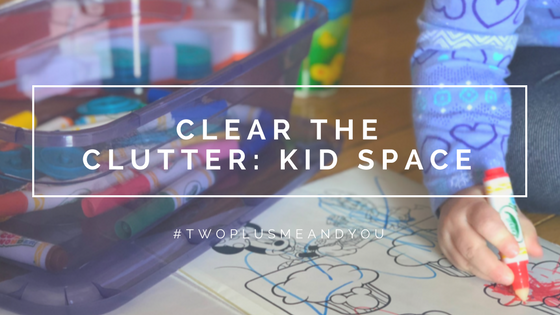 Happy Monday, I hope you all had a lovely weekend! We had a low-key weekend just hanging out at the house. Friday night was pizza and movie night — I introduced the girls to a classic Disney movie, Mary Poppins. At the end Grace told me that she wanted to watch the movie "every day."  That made my heart smile. We watched it again on Saturday night. *wink*
Even though we had a fairly uneventful weekend I seem to be dragging a bit this morning. It's definitely an extra-large cup of coffee kind of day.
Speaking of which, grab your cup of coffee and settle in, because this one is for all the mamas struggling to keep their kids stuff  organized — I know I'm not the only one.  I mean  there are about 1,000+ boards called "playroom organization" or something of the like. Between the crayons, legos, books, barbies, etc. it can get out of hand quickly. And can someone tell me why children love to dump out the entire bin of toys? Not just like one bin because they're looking for something, but they empty every. single. bin. Why?!
playroom
Our playroom is an ever evolving task of mine, always a work in progress. I've scoured Pinterest boards for ideas and inspiration, continuously on the hunt for ways to make our playroom the cutest little put together space on the block.  Funny little story…
When Grace was a baby I tied labels to all of the cubbies with pictures of what belong in them. I had seen it on so many Pinterest boards — it looked cute and I convinced myself it would help us keep the room tidy. WRONG! No one paid attention to the labels. When it came time to cleanup kids just put toys in whatever bin was closest to them — parents too! After everyone left I would go back and re-organize to put everything in it's right place. *facepalm*